Saturday, December 14, 2019
Advertiser clean sweep of 2019 SA & NT Rural Media Awards
From a near record number of outstanding entries, Advertiser rural affairs editor Paula Thompson and photographer, Matt Turner took out the major prizes at the 2019 RMSA South Australian and Northern Territory Rural Media Awards.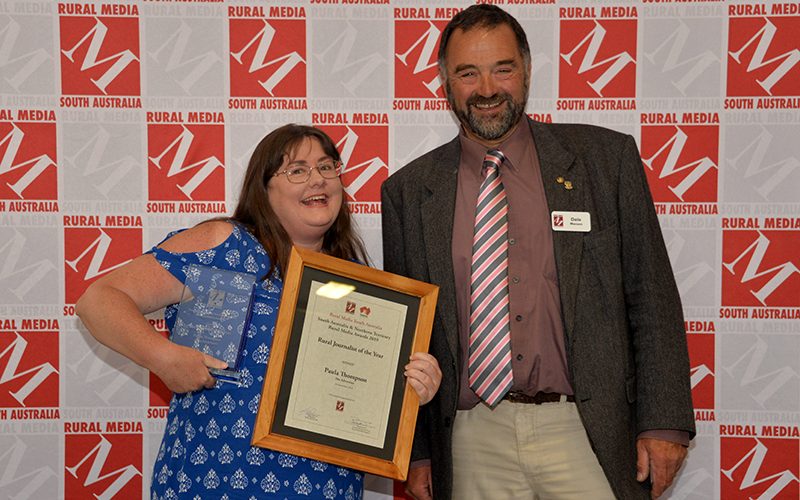 Now in its second year of incorporating the Northern Territory in these awards, Paula Thompson emerged from the Print category to win the 2019 Rural Journalist of the Year Award. Despite having grown up in Adelaide, Paula has had an extensive career in rural and regional journalism having first commenced her career with the Australian Broadcasting Corporation (ABC) whilst studying journalism at university. Paula has also held roles with the Murray Pioneer and the Stock Journal, and is now the Regional Editor for News Corp Australia at The Advertiser.

From an extremely strong field of 18 entrants, Matt Turner was named the 2019 Rural Photographer of the Year with an outstanding portfolio of story-telling and creative photographs, winning two of the main categories and being highly commended in the other. Prior to joining News Corp's South Australian office in 2003, Matt commenced his career in photography as a freelance for the Stock Journal and then went on to hold roles with The Australian, The Sydney Telegraph and Getty Images, amongst others.
This is Matt's third RMSA Rural / Regional Photographer of the Year award in the last 5 years and clearly identifies him as not only an outstanding photographer, but one who has a deep understanding of rural issues and a connection with rural and regional people.

Chair of the Rural Photographer Judging Panel, Ian Turner, 2019 SA & NT Rural Photographer of the Year, Matt Turner with principal sponsor Rural Business Support CEO, Brett Smith